At Spin Two Swords
Allottian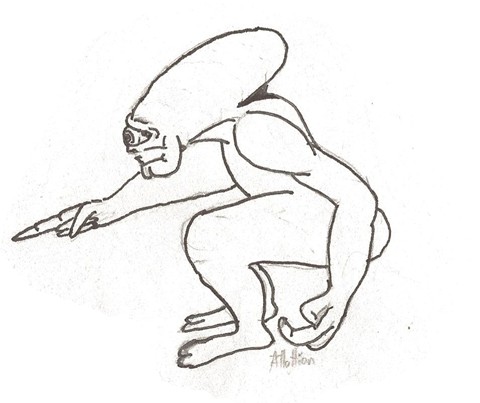 Notes:
nickname: Cyclops
family mentality like apes. One alpha rules over all younger and weaker members of the race.
Race grows as they get older. They never stop growing, but growth tapers after about 8'. Most Allottian are about 1' tall per year.
Allotian have a tight bond to their leader and are unlikely to leave him or her.
The leader's interests all but decide the trade of the Allottian. An Allotian alpha who wants to run a bakery, for instance, would include his or her family as workers. The leader's interest decides the direction of his family.
The Allottian Business Model: derogatory term for a family business.
The Allottian are notorious for cheap, substandard labor. After all, it's only the leader who really cares in the business. Everyone else is just doing their thing because of the leader's interests.
Allottian originally evolved on a cold, windy tundra swept plain. Part of their family structure reflects this. The families would have had to live on their own for long periods of time. Centralized areas of civilization, like cities and towns, would not have been possible. Trade would have developed through nomadic pods. This allows for some social evolution to have happened, but has kept the race back. They've never developed the ability to cooperate enough to build larger technological societies, though individual members can become quite adept at tech.
Allottian hide is rough and thick (Armor 3). They receive +2 on Endurance rolls, and -2 on Social rolls. Allotian are greatly impaired by any temperature over freezing and prefer subzero environs.
An Allottian 'shop' is always temperature controlled.
Allottian associated friendliness and sociality with their alphas. The rest of the family is clannish, paranoid, and standoffish.
Allottian reproduce by budding off offspring.