At Spin Two Swords
Ambren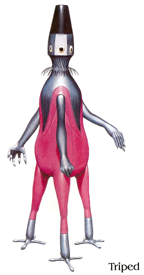 Ambren evolved on a planet where nature tended to select shoal mentality as a superior condition. Most animals operated off of herd mentality, shoal mentality, or hive mentality. Ambren slowly evolved in this environment and developed a capacity for social pattern recognition unparalleled in the Third Imperium.
Ambren have a natural capacity for understanding large social patterns like trends and political movements. They tend to gravitate towards jobs as analysts of the public (or agents of media stars)
The Ambren sense of social order is deeply tied in with their survival instincts. While the Ambren are deeply tied into the social order, they live in continuous fear of being oppressed by that social order. They tend to be paranoid a bit, and their paranoia often keeps them from gaining much power from their powers.
Ambren appear to have psi powers, specifically, telepathy. This power is, however, a sham, but in game terms, it works well enough to think of Ambren as telepaths. They can tell what people are likely to think and what they are likely to do.